Black Note is the amaro that can give an intense and unforgettable harmony. Delicate and sweet, enriched by some fresh citrus and rhubarb notes, Black Note is a superior quality product that uses only extracts of plants, herbs, flowers, roots, fruits, directly prepared by Turin Vermouth in its own plant, with an exclusive extraction technology.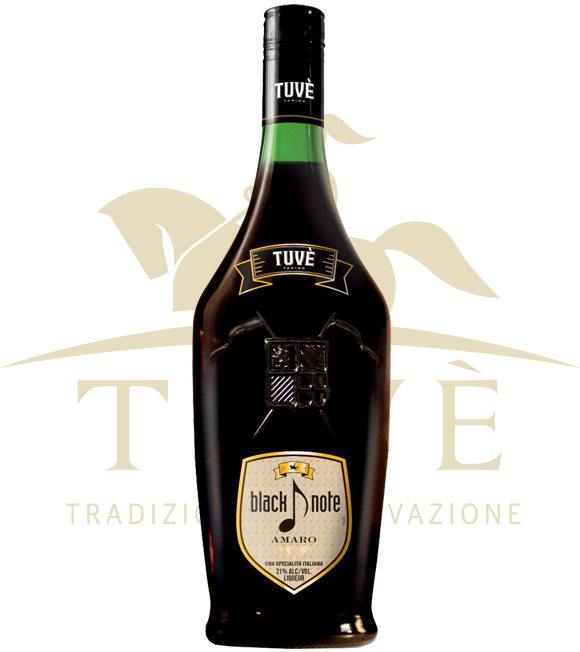 SENSORY
NOTES
AND CHARACTERISTICS
Color: Caramel
Taste: sweet and delicate, it has pleasant notes of cloves and cinnamon with a persistent aftertaste of rhubarb
Alcohol content: 21% vol.
Size: 70 cl
It has a warm caramel color with evident copper nuances.On the nose you can clearly distinguish the citrus notes that harmoniously intersect with the cloves, cinnamon and rhubarb. The result is particularly pleasant, complex, fresh and fruity.
On the palate is definitely sweet and soft thanks to the fact that it is low in alcohol. The hints of orange and chinotto enhance the flavor while the quassia amara balances the aromas and makes it all persistent.
We recommend to taste it fresh, not frozen, with a slice of orange. It is an excellent digestive if drunk straight after a large meal, and may as well pleasant if you add tonic water. It is a product that, due to its versatility, perfectly lends itself to the creation of new cocktails.
4cl Amaro Black Note
4cl Vermouth Drapò Rosso
6 drops of orange amaricant
Lemon peel