It is a dry vermouth of exceptional quality and refined organoleptic characteristics, made through the harmonization of a selection of fine national white wines, strengthened with alcohol, sweetened with sugar and invigorated with an infusion of medicinal plants and spices. It is characterized by its dry and sophisticated taste.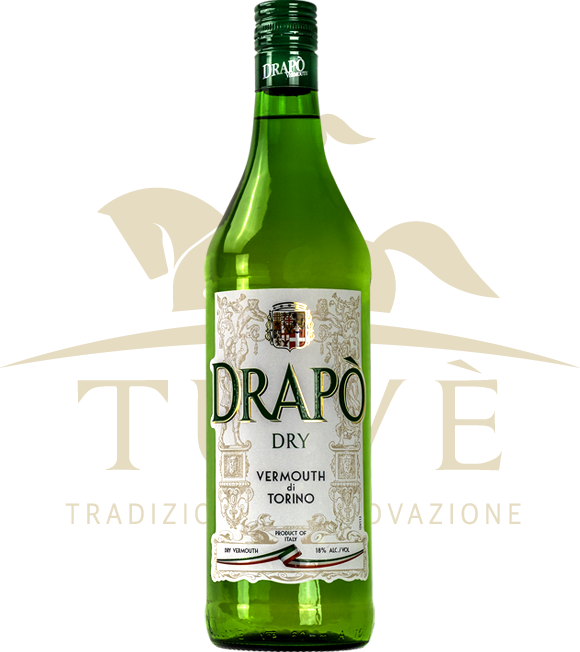 SENSORY
NOTES
AND CHARACTERISTICS
Color: light yellow
Taste: Pleasantly aromatic, rich in hints of tropical fruit with a slight bitter aftertaste
Alcohol content: 16% vol.
Size: 1 lt / 75 cl / 5 cl
It is appreciated for its particularly delicate scent deriving from the combination of herbs and spices extracted as per tradition. A Dry to be used to give quality and character to cocktails of all kinds.
A pale yellow colored vermouth with greenish reflections, given by the pressing of the herbs. The aroma engages the senses with sumptuous spicy and floral notes, reminiscent of cinchona, cardamom and dog rose. The taste is dry, sensation given by the tannin, as the quantity of sugar present in this Vermouth is decidedly lower than in the Drapò range; nevertheless it has a pleasant, persistent and delicate aftertaste.
It lends itself perfectly to the preparation of classic cocktails such as the Bronx, the Manhattan Dry, the Rose and at the same time it is able to give the right inspiration for the creation of new sweet & sour drinks or reinterpretations.
DRAPO' EXTRA DRY
1,5cl GIN 5cl
Step 1
In a mixing glass filled with ice, pour DRAPO' DRY and GIN.
Step 2
Stir for 20 seconds then, by the help of a strainer, pour the drink into a previously cooled cup.
Step 3
Garnish as you like with green olives or lemon zest.